SEO is a highly competitive business. Every day, new websites and companies emerge, and the top five organic search results on Google receive two-thirds of all clicks. You have competition in every business, and chances are, they're doing the same thing you are. Maybe they're better at it, have been doing it longer, or are doing something fresh and unexpected. Here is where competitive analysis enters into play. That's where we need to understand SEO competitor analysis better to succeed in the industry.
In this blog, we will give you an idea about competitor analysis and how to do an SEO competitor analysis.
What is SEO Competitor analysis?
Competitive analysis is a simple idea. When it concerns Search Engine Optimisation, you want to know which strategies your competitors are employing, what keywords they are ranking for, what their backlink profile looks like, and what is and is not working. So, competitor analysis is precisely what it is. You're gathering information from your competitors to understand better the most successful aspects of their strategies and how you can integrate them into your own.
You don't have to learn from your errors, but you can learn from them. The procedure can save you significant time and money by allowing you to build on your previous work and study.
Why is SEO Competitor Analysis Important?
Competitor analysis in SEO allows you to take a closer look at your industry and identify gaps in the industry that you can cover. You can find out where your competitors stand, compare it to where you stand, and use the information gathered to drive your company forward. Your company may even appear in the top five search results for the most pertinent keywords in your domain. However, a website will always attempt to overtake your position by exploiting your website's flaws.
When considering how to conduct competitor analysis, it is critical to identify the precise takeaway you are looking for. Competitor analysis in SEO can be used for various reasons, such as developing a roadmap to determine what your competitors do better than you.
How to Do SEO Competitor Analysis?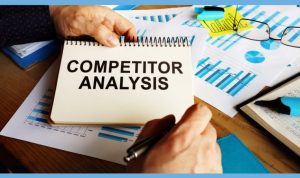 Now that you know about the essential things in competitor analysis, then let's get to the main topic of how to do the competitive analysis.
SEO Competitor analysis is about five steps, and such steps are,
Find your competitors
Conduct the page analysis
Find high-ROI keywords
Create a content strategy
Track your progress
Find Your Competitors
The first stage is to identify your SEO competitors. While this may seem obvious, it's essential to remember that your biggest market competitor may not be your biggest SEO competitor. Smaller businesses can have SEO strategies and outperform their competitors in the digital world.
This procedure does not allow much room for error. If you attempt to depend on your 'gut instinct' to tell you who your competitors are, you will most likely have the same blind spots. Big companies often concentrate on big-money keywords while ignoring long-tail keywords that enable smaller companies to dominate certain market segments.
Cast a broad net by comparing and researching SEO for various keywords, and pay close attention to the top 10 or 20 websites that keep on ranking for all of them.
Conduct Page Analysis
The second stage is to review competitors' websites and top-performing pages. Take note of the content and important keywords and how they used the SEO strategy. First, you must identify the keywords your competitors rank for, which you are not. Then you can devise a strategy that will enable you to outperform your competitors.
Once you've compiled a list of relevant keywords for your company, you can create pages devoted to ranking for them. You can also update some older pages with new keywords, but be careful not to change their message.
You can also investigate your competitors' link building strategy by conducting a competitor backlink profile study. First, examine the number of backlinks, domain authority, and the linked content's relevance. After that, you'll have valuable insight into how a similar approach might work for your website once you know which sites link to their content and how that affects their ranking, domain rating, and authority.
Find High ROI Keywords
Your competitors and your budget determine the number of keywords for which you can rank. Rather than diluting your efforts, focusing on a smaller number of keywords is generally more cost-effective.
It is suggested that you focus your efforts on ranking for keywords that will provide you with the highest ROI, those that will generate the most profit or income. Low-cost products and services are generally not worth the effort unless you're dealing with extremely large volumes.
It's best to concentrate on high-profile content and attempt to rank for keywords that will bring in more leads for them or related products/services. Alternatively, you can try to create content that is exceptionally high quality and pertinent to your target audience that your competitors have overlooked.
The success of an SEO competitor study is dependent on discovering a niche that your competitors haven't considered exploiting. Even low-competition keywords can be an excellent starting point for expanding into other market groups.
Create a Content Strategy
After you've gathered the necessary information, you can use your marketing reporting tools to generate a competitor analysis report. Based on this report, the next stage is to create an SEO content strategy.
Create and save a collection of quality content ideas and keywords first. Following that, you must begin implementing the content strategy and, if required, reach out to external sites for guest posting. When your content strategy is different and unique from other websites, there might be a good chance of getting a good result and lead on the domain.
Track Your Progress
You must track the performance of new and re-optimized material after it has been published. In addition, regular keyword audits and competitor analysis SEO reports should be produced to determine whether or not your competitive analysis strategy was successful. You can use SEO analysis tools like ahrefs and Google Adwords to do keyword audits.
Final Thoughts
We all want to outrank our competition. However, before you do so, you should understand what you're up against. As a result, competitor analysis is an essential component of any SEO plan. Once you understand your competitors, you can tailor your SEO activities and efforts to outperform them.
Competitive analysis helps you uncover hidden On Page SEO strategies that you may not have been aware of previously. It also shows the SEO areas where you need to improve. We trust this comprehensive guide will help you conduct a better SEO competitor analysis.