To set your business for success, you must create a powerful digital marketing plan. You can use a variety of strategies, but you should consider which ones are ideal for your business. Search engine optimization and pay-per-click advertising are two of the most widely used marketing techniques.
Both SEO and PPC marketing have their uses when comparing the two, but it's crucial to know the differences between the two. It's crucial to comprehend the differences between SEO and PPC so you can use the best strategy possible. What, however, do you need to know about these 2 strategies for driving traffic?
In this article, you will learn about the difference between SEO and PPC and also get an idea about choosing the best marketing strategy for your business.
What is SEO?
Enhancing your website's visibility through search engine optimization will help it rank higher and receive more natural search engine traffic.
In the same way that you might use Google or Bing to hunt up a new marketing phrase or the best place to buy food, so do your customers. By investing in SEO, you increase the likelihood that members of your target market will find you when they use Google to search for terms related to your product or service.
In the below image, the result appears at the top of the organic search engine result page (SERP) for the term "Internal Inking", because of the effective SEO strategy.
On the search engine results page, the order in which the results appear isn't random. Every search engine considers several ranking criteria that affect where a webpage is shown. The objective of an SEO strategy is to develop web pages and quality content that cooperate with the search engine's ranking elements to advance inside the SERP ranks.
What is PPC?
An advertiser pays a publisher (such as Google or Facebook) for each ad click in pay-per-click (PPC) advertising, a component of search engine marketing (SEM). Under this system, companies only have to pay when customers respond to their advertisements. You can attract more customers that are eager to take advantage of your offer by using PPC advertisements.
You might have noticed that some of the top search results, like these Web agency UK search results, are marked with an "Ad" sign or a "Sponsored" Tag.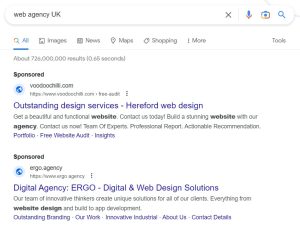 PPC advertisements always overlap with organic search results. Several companies use these search advertising for targeted marketing initiatives with established beginning and ending dates. The cost of PPC advertisements often relies on your industry and the frequency of searches for the keyword you're aiming for.
SEO Vs PPC – Which is Better for Business?
You must understand the distinctions between SEO and PPC. Given that it may take some time before your content appears higher in the SERP, SEO is much more of a long-term plan. However, enhancing your content will help you rank high and keep it there. Also, since there won't be an "Ad" tag next to your link, your website can be seen as being more reliable. Even though SEO takes time, you can increase traffic exponentially.
On the other side, PPC advertisements produce quicker results. If you're prepared to spend enough money today, you can appear at the top of the page. So, this might not be feasible for tiny enterprises with minimal resources.
In the end, there is no clear winner, but you must think about what will work best for your business. Use SEO if you're thinking about adopting a longer-term, sustainable strategy. Use pay-per-click marketing if you want to quickly enhance your visibility online. Bear in mind that you can combine the two of them in your digital marketing plan.
Using SEO and PPC Together
Utilizing both SEO and PPC together will enable you to create effective marketing strategies.
A PPC campaign can help you increase your visibility by quickly spreading the word about you. By doing this, you can quickly get your brand in front of consumers.
After that, you can improve your organic traffic by launching an SEO campaign as your internet visibility grows. Through an effective SEO campaign, you can decrease your PPC spending as you gain more organic visibility while maintaining your traffic.
The Benefits of Using SEO and PPC Together
SEO and PPC would be taken into account in an ideal world. Both have benefits and drawbacks, and they work best when used in combination. When SEO and PPC are combined, you can frequently achieve results that are greater than the sum of their parts.
Combining SEO and PPC has several advantages, including:
You can use PPC keywords and conversion statistics in organic search (SEO).
Targeting clicks in both paid and organic search results for high-performing keywords might boost traffic overall.
You can switch expensive, high-volume, or low-converting (but still crucial) terms from PPC to organic search.
Your organic listing and landing pages can benefit from A/B testing of ad copy and copy.
Strong organic and paid visibility will boost awareness and confidence.
According to our experience working with hundreds of organizations, an integrated search strategy that considers AdWords and SEO is the best course of action. The results of each channel are improved by combining sponsored and organic efforts. While not appropriate for every business, you should instead create a comprehensive search engine strategy for high-growth, aggressive marketing.
Conclusion
In conclusion, both SEO and PPC have their advantages and disadvantages when it comes to digital marketing. SEO is a long-term strategy that can lead to high-quality organic traffic and a strong online presence, while PPC is a short-term strategy that can provide quick results and targeted advertising. Ultimately, the choice between SEO and PPC will depend on your specific business goals, budget, and timeline.
It's important to consider both options and determine the best approach for your business. Regardless of which strategy you choose, remember to continuously monitor and adjust your campaigns to achieve the best results.