Users are altering how they conduct online information searches as search engine keeps enhancing their engine and adding more features to their search result pages. The usual blue links are no longer the only thing users anticipate; they now demand a whole new experience on the results page. As a result, website owners and publishers continually seek strategies to improve their SERP rankings. Using structured data on it is one method for doing this. This blog will give you an explanation of what is structured data in a detailed manner.
What is Structured Data?
Structured data, commonly referred to as schema markup, describes specified tags applied to an HTML-coded page. It gives search engines precise information about a page. This enables search engines to crawl and index your information more quickly.
In other words, it makes it easier for search engines like Google, Bing, Yahoo, and many others to comprehend the information on a web page and use it to display search results in a meaningful and organised manner.
Why is Structured Data Important?
Structured data can help you communicate with search engines more effectively. When a search engine scans a certain page on your website that uses schema markup, it may rapidly take in all the pertinent data. Moreover, schema markup makes your website appear better in search results and increases organic traffic to your site.
Schema markup increases your likelihood of receiving a rich snippet that appears before all other search results, which is the cherry on top. Your page will likely get a greater click-through rate when it appears as a rich snippet.
Because of these factors, structured data becomes a must to support your SEO efforts.
How Does Structured Data Improve SEO?
Every company aims to rank first on the Search engine for relevant search terms. This is due to the fact that websites with high rankings are more likely to grab users' attention, generate more clicks, and increase both local and organic traffic.
Given the situation, webmasters make adjustments to their websites to improve their visibility on search engines like Google.
One of the most crucial SERP characteristics is the ability to display rich results, which can be accomplished by adding structured data to your website pages. As a result, your page will be more engaging and actionable, with detailed information incorporated right into the search results when you reach rich results.
In this approach, structured data increases conversions and helps you increase click-through rates.
What are the Benefits of Using Structured Data?
Using schema markup offers the chance to raise your content's click-through rate (CTR) that shows in search engine results pages (SERPs). According to the majority of case studies on structured data, adding schema markup to product pages raised CTR by 40%.
Google uses the structured data on your page to show extra information on the top of SERPs, such as a product's benefits or the quality reviews it has.
Improves Brand Awareness
The Knowledge Graph is a sizable information bubble appearing on Google desktop searches. Using Schema Markup, your brand's online presence receives a significant boost (i.e. webpage code that enables Google to fill search results with useful information).
Customers can obtain crucial details about them without even visiting the companies' websites, such as contact information. In addition, your social media profiles on Facebook, Instagram, Twitter, LinkedIn, and YouTube channel are linked in the Google Knowledge Graph.
Provides Preview of the Content
Another benefit of structured data is that it can give searchers valuable details about a site's content through visually appealing search results. By adding structured data markup, you may make your site content appear as rich results or snippets in Google SERPs.
Improves CTR
Rich snippets can be used thanks to schema markup, which also aids in boosting your brand's online visibility in Google search results. In turn, this aids in raising CTR.
Rich Results Influenced By Structured Data
Depending on the sort of material and schema you add to the page, these results can come quite differently. Such types of the schema are,
Knowledge Graph
For well-known brands and companies, this functionality is essential. Users can access information like an address, social network handles, logos, and website URLs from the knowledge graph, which is shown to them as a card of information on the SERP.
Breadcrumbs
A website may appear in the SERPs with the assistance of organisational links to other important pages on the site thanks to certain types of markup. Breadcrumbs almost always only show up for branded searches. If the search term is more detailed than that, Google will direct the user to the most relevant page on your website.
Videos
In 2021, more than 72% of consumer traffic was video traffic; thus, if you are producing video content, you might mark up your videos with video objects. Your videos will then be able to appear in Google search results, video search results, Google Images, and Google Discover, which will increase traffic and raise brand awareness.
Product
The product type lets you show a product's price, availability, and review ratings. This schema must be included in single product pages for it to function. Also, you may add the schema to photos to display the product information on the page that results from an image search.
Supported Formats of Structured Data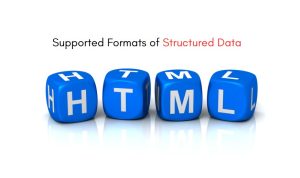 To notify search engines precisely what is on your website, you can add one of the following three languages of code to your HTML document,
Conclusion
You can instantly give users clear information about your page using structured data. Search engine crawlers can easily fetch the data with the use of structured data by using it on the website. And also it helps the website to get high click-through rates through the different schema methods.
And the final thought is that if you want to gain more clicks to your new website, then using structured data is one of the most efficient.