The majority of site visitors will leave the site if it takes more than three seconds to load your page. Clearly, website speed is essential to user experience.
Using a CDN service, optimizing your pictures, and the focus of this article, a WordPress cache plugin, are just a few simple ways to speed up your WordPress site. Data caching is one of the first areas to go if you want an easy and quick approach to optimize the speed of your WordPress website. In this article, you will clearly get on how to optimize website speed using the WP cache Plugin.
What is Caching?
Caching is the technique of storing static copies of your website's files in a temporary storage location. This speed up the delivery of a web page to the visitor's browser.
Depending on whether your website uses caching, certain information from its web pages may be stored locally on the user's computer or device. The next time a user visits a page on your website, some of that information is retrieved from the user's computer's local storage rather than your web server.
Also, by implementing caching, your website increases its ability to load web pages with fewer resources, resulting in a faster Time to First Byte (TTFB). The time it takes the browser to get its first byte of data after sending a request to the server is measured by the TTFB. This will enhance the functionality of your website throughout its entirety.
How to Optimize Website Speed Using WP Cache Plugin?
How to Increase Website Speed With WP-Optimize Plugin?
To optimize the website speed, here the WP-Optimize plugin is used. There are a few approaches you can use to make your website load faster, including database optimization, caching, and image compression. There are countless plugins available that can each individually assist with picture compression, database optimization, and site caching. There used to be no single plugin that could perform all of these activities, so you would have had to install a different plugin for each one.
This has now changed thanks to WP-Optimize; you can now have all the mentioned functions in a convenient plugin. There are no longer any troubles associated with managing a variety of plugins and praying that they are secure. You only need to add one safe plugin to your website to significantly speed it up with WP-Optimize.
Things to Make Ensure Before Using WP Optimize Plugins
You need to utilize the Google Pagespeed Insights and GTMetrix speed measuring tools to compare the site's speed before and after optimization on our test website. Before installing the WP-Optimize plugin, your test website is run through these services, and gives you the performance reports including, page speed score, load time, total page size, etc…
How to use WP-optimize Plugin?
Installing and activating the WP-Optimize plugin on your website is the first step in the optimization process. Go to WP-Optimize->Database after enabling the plugin. There are a few plugin-selected default settings that you should enhance.
It is generally advised to take a backup of the database before performing any optimization processes, including database optimization. Click the "Run all chosen optimizations" button once the backup is finished. Your database's orphan entries will now begin to be removed by the plugin, which will lower the size of your database and improve server response times.
After that, go to WP-Optimize->Images. Activate "Automatically compress newly-added photos" to ensure that any further images are compressed. Choose your desired compression option from one of three selections under the compression options. For the sake of this test, we'll go with the most widely used option, "Prioritize retention of detail," which conserves storage space while maintaining superior image quality.
A list of your uncompressed website photos can be found if you scroll down the page. The size of the photos will be reduced using image compression, resulting in a smaller page and a higher page speed rating.
To choose all of the images, press "Select All" and then "Compress the Selected Images".
Your photos will begin to be optimized by the WP-Optimize plugin using the third-party services Nitrosmush or reSmush.it. Using the drop-down menu labeled "Display advanced choices," you can select either service. ReSmush.it will by default be the service chosen.
Next, configure the WP-caching Optimize feature. Go to WP-Optimize>Cache to get started. If your website has a mobile-specific theme, enable page caching in the "Page cache" tab and choose the "Generate separate files for mobile devices" option.
Before enabling cache, the following Gzip compression and static file caching should be carried out. Before transmitting the requested resource, gzip compresses it, making the files smaller and loading more quickly. On the "Gzip compression" tab, turn on this option.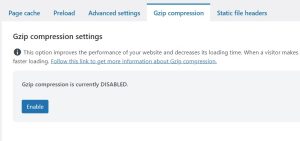 Under the "Static file headers" tab, turn on the browser's static file caching settings. This instructs a visitor's browser to temporarily cache non-changing files so that it won't try to retrieve them on each visit.
After the use of the WP-Optimize Plugin
Then after this process, check the speed score for our test site on Google Pagespeed Insights and GTmetrix once again now that we have finished configuring all of the WP-Optimize parameters. This will assess the functionality of your website and should result in a higher rating than pre-optimization outcomes.
Conclusion
By using a few simple techniques, you can improve your site page speed. Site optimization is a vital task to carry out before launching your website while using WordPress. A well-optimized site can not only improve the user experience for your visitors but also aid in your online success.
Use the WP-Optimize all-in-one plugin to obtain all the functionality you require for WordPress website optimization.