YouTube is one of the most widely used search engines on the globe, and it is a perfect way to promote your video content. A video won't automatically rank at the top of YouTube's search results by simply being uploaded. You'll need to optimize your recordings using a number of strategies if you want to appear higher in YouTube searches.
In this article, you will get the finest techniques for YouTube video optimization, including everything from playlists to video descriptions and tags!
What is YouTube SEO?
YouTube SEO is the technique of optimizing your YouTube channel and content to improve its ranks on YouTube. Search engines like YouTube employ a complicated algorithm to determine how your videos will rank in search results. Important KPIs like follower count, brand exposure, website traffic, and revenue can all be raised by optimizing YouTube.
YouTube SEO refers to the process of enhancing the videos, playlists, metadata, and descriptions on your channel. The videos are optimized for both the search engine on YouTube and other search engines.
What are the Benefits of YouTube SEO?
There are 2 billion users on YouTube, which is the second-largest search engine, and 500 minutes of content are uploaded every minute. There are several eCommerce opportunities with 90% of users discovering new companies or products within the network. Every YouTube success story starts with quality content, but it is only the first step. Brands may expand their audience and increase video engagement and online visibility by utilizing SEO practices.
YouTube SEO starts and grows concepts for video content
Indirect effects of YouTube SEO on video engagement metrics
YouTube rankings in Google can be obtained by embedding YouTube videos on a website.
Structured data can be used to mark up embedded videos in the SERPs.
SEO on YouTube can boost paid media metrics
How to Optimize Videos for YouTube Search?
It's really easy and simple to integrate your SEO and video strategies to help boost your marketing. By doing this, you'll extend the duration of your videos, catch your audience's attention, and further your YouTube remarketing efforts.
The following steps will help you increase your YouTube SEO and increase traffic and video views:
Pick Your Keyword
A video's optimization for YouTube search results starts with keyword research, just as optimizing a website for Google. You can make sure you're developing and optimizing content that people are actually searching for by giving this phase of the YouTube SEO strategy priority.
The keyword research process begins in the state of YouTube. The search box is a data mine because the autosuggestions are based on actual user searches.
When you begin typing a word or phrase associated with your specialization, a list of popular search terms appears:
Click on a recommendation you think will make a good video, and you'll see which channels are already ranked.
Include the Keyword in the File Name
Quite clear, but YouTube might take this into account when evaluating how high up the search results to display your film. Your video will have a far better chance of ranking and receiving more search volume if the file name you are uploading contains the desired keyword.
The filename appears when you upload a new video. Make sure your file name is updated before you post it because YouTube will use this to determine whether the video is relevant.
Write a keyword optimized- Title, Description, and Tags
Once you've discovered a great keyword, you must make sure that the texts related to your video are optimized for that keyword.
Remember that search engines are aware of keyword stuffing, the tactic of misuse of the platform by employing excessive amounts of keywords and phrase variations. Never mind about that. Write for people, not machines, or you risk being penalized.
After conducting keyword research and selecting your keywords, naturally include them in the following fields:
Title: Next, include the target keyword naturally and creatively in the title of your video. The title shouldn't just be "keyword," though. As the title is the first thing users will see, aim to stimulate their curiosity and interest while making a promise to be of assistance.
Description: Your YouTube SEO strategy's lifeline is the video description. Your target keyword should appear 1-2 times in your description naturally, along with some variations of it.
Tags: Despite the fact that the majority of viewers don't utilize tags to search videos, they can aid the YouTube algorithm in recognizing your video and presenting it to the targeted people. Add about 5-8 industry tags, being careful not to use too many to avoid being marked as spam.
Select a Video Category
Viewers have the option of using the search to view videos from many categories while looking for a certain movie with more possibilities. When posting your video, it is essential to contextualize it using categories to improve user discovery.
Because there are so many options, you should be able to choose a category on YouTube that matches your videos. You have the opportunity to select a category when uploading your video.
Customize Thumbnail Image
Your YouTube video thumbnails are the key reasons for the success or failure of the video. When users see the YouTube search results, the first thing that catches their eye is the thumbnail. An attractive thumbnail can result in an extended watch time, which can significantly improve your YouTube ranking. To ensure that your video is seen, make something that stands out from the crowd and attracts attention.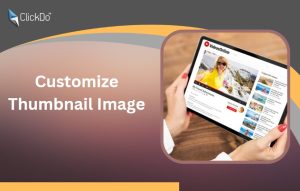 The best technique to get results is to make a customized thumbnail, but the actual secret to success is to explain to viewers what your video is about and how it will help them.
Add Subtitles and Closed Captions
Use closed captions and subtitles to navigate YouTube search, which is the final piece of advice. While video subtitles are meant to translate video speech for viewers who are unable to understand the video language, closed captions are intended for viewers who cannot hear the audio.
Similar to a transcript, both closed-caption files and subtitles contain the text of what is spoken in the video. Also, the file will contain timing data that specifies exactly when each piece of text should be shown in the video in order to match it up with speech or another visual element.
Conclusion
A YouTube video that has been optimized that is pertinent to the user's search query or to the user and comprised of pertinent terms. These improvements are simple, straightforward, and beneficial for achieving higher video content that deserves to be shared. Hope, this blog will help you to optimize your YouTube Search to get more views.