Choosing the right domain name is crucial for the success of your website. It could be difficult to modify your domain name later on without harming your brand or search engine results if you choose the incorrect one at first. This is why it's crucial that you immediately secure the best domain name possible.
Finding an attractive business name that also has a catchy domain name might be challenging when you're just getting started.
In this post, we'll provide you with all the basics you need and the assistance you require to generate domain name suggestions, pick the ideal domain name, and register your new domain.
What is Domain Name?
An actual address's online equivalent is a Domain Name. It makes it simpler for users to find your website by using its internet protocol (IP) address rather than its IP address. An essential component of the Internet's infrastructure is domain names, which are composed of a name and an extension.
In other words, a domain name is the address of the site that internet users type in their browser's address bar to access it.
How does Domain Name Work?
A domain name and a web hosting server are the two fundamental components of every website. All domain names point to the distinct web servers which host the websites and are associated with their corresponding IP addresses. A global network of Domain Name System (DNS) servers searches for the associated IP address when a user enters a domain name into a browser.
The web browser then asks for information about the website from the domain's hosting service after receiving the IP address information from the server. The website's files, database, and HTML code are all kept on this web server.
The web browser transforms the data into a web page that users can access after the host sends it back.
Why Domain Name is Crucial for Websites?
Here are some considerations for why you require a domain name for a business or implementation:
Memorability: Technically, your audience can access your website by typing in its IP address even if it doesn't have a domain name.
Effective Branding: A well-considered domain name will aid in effectively communicating your project or business in a way that is consistent with the goals and values of your brand.
Credibility: Custom domain names provide websites with a more sophisticated appearance than free domain names.
Custom Email Addresses: You can generate distinctive and expert business email addresses if you have a domain name. Additionally, it ensures that your presentation is uniform across all of your web channels.
SEO: Your website's search engine optimization will benefit from a catchy domain name that contains important keywords, raising its search engine ranks.
How to Choose the Perfect Domain Name?
Choosing a domain name that is compatible with your business's identity is important if you want to start your company's online presence. This will make it easier for customers to find and respect your website.
There are a few things to keep in mind when selecting your domain name:
Use a .com Extension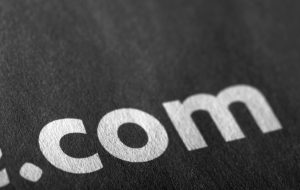 You have probably visited a lot of websites, and it is obvious that.com is the most widely used domain extension. Other reputable or widespread possibilities include.org and.net.
Always prefer the .com extension while choosing the domain name for your business site, because it can be tempting to create unique blog names utilizing new extensions, the most reputable and well-known extension is still.com.
Use Keywords in Domain Search Name
In a domain name, keywords must be used effectively. By including keywords in your domain name, you may educate search engines about the subject matter of your website. High-quality content and a great user experience, together with domain-specific keywords, can improve your Google ranking.
It might be challenging to find an appropriate domain with your targeted keywords that are not already taken.
You'll need to be creative and incorporate your keywords into other words to make your domain stand out.
Keep the Domain Name Short and Simple
While keywords are significant your domain shouldn't be overly long. It is advisable to have a domain name that is short and memorable. No more than 15 characters may be used in your domain name. Longer domains will be harder for your users to remember.
Not to add, visitors who type longer domain names are more likely to make mistakes, which could lead to a decline in traffic. So, it makes sense to keep the length of your domain as short as possible.
Stay Unique and On Brand
To make an impression on your visitors, your blog's domain name needs to be distinctive. Examine other blogs in your niche to learn what domain names they are utilising.
Avoid mistakenly using a copyrighted name or being charged with plagiarism by another blogger. You also have the choice of going with a more recognisable domain name. Unique, catchy, and memorable domain names make for strong brands.
Avoid the use of Hyphens and Double Letters in Domain Name
Never use hyphens while creating a domain. Spam domains can be recognised by their use of hyphens, thus you don't want to be associated with them.
Additionally prone to errors are hyphenated domains. Users who don't type the hyphen will likely end up on your competitor's website if you choose a domain name with hyphens because the one you want is already registered.
It's a good idea to stay away from domains with repeated letters because they increase the possibility that users will leave your site because of a mistake. A website like Presssetup.com, for example, will be more prone to errors and lose visitors.
Pick a Flexible Domain Name
You shouldn't limit yourself in any way while choosing your domain name. While being specialized is important to draw in visitors, you shouldn't be too specific that your website can't expand.
If you pick a domain name for a particular business like a shutter. photography for a photography blog, then you cannot able to write a blog on other art forms in future and it results in an inaccurate domain name.
Therefore, it becomes sensible to think about how your website or company might grow in the future. This choice should be made with the long term in mind.
Use a Domain Name Generator
Presently, there are over millions of domain names are already registered. Due to this, many claims that all desirable domain names have already been registered. Manually looking for each domain name can take a lot of time.
Domain name generators can help in this situation. With the help of these free tools, an automatic search is conducted for the keywords you choose, yielding hundreds of original domain name recommendations.
Protect your Brand with Multiple Domains
Even if you can secure a highly aimed-after.com address, you may want to think about buying alternative TLDs and implementing redirects. With the help of these free tools, an automatic search is conducted for the keywords you choose, yielding hundreds of original domain name recommendations.
This approach is also applicable to social media. Even if you don't anticipate using Twitter, you should still try to secure a respectable handle if one becomes available. By doing so, you'll be prepared in case you decide to tweet in the future and you'll stop someone else from using that account.
Conclusion
Choosing the perfect domain name is a crucial step in building a successful online presence. It needs to be distinctive, memorable, and simple to type. Additionally, it should convey who you are and what you stand for.
By following this guide, you can choose the perfect domain name for your business and set yourself up for online success. Hope this article helps you how to pick the best Domain Name for your website.