It's easy to become lost in the rush and bustle of city life when you live in the United Arab Emirates. However, something is always going on, and keeping up with the newest news and trends may take time and effort. Fortunately, many excellent tech blogs can update you on the most recent technological developments.
Top 10 Tech Blogs To Follow In Dubai
1. Tech Times
Website: https://www.techtimes.com/
Tech Times is a beautiful alternative for individuals who want to learn about the latest consumer technologies. The website offers everything from science and technology to exciting career prospects in the technology business. Tech Times also heavily emphasizes entrepreneurship and business, with pieces discussing the most recent trends and methods.
One feature that distinguishes Tech Times from other tech blogs is its frequent content. The site includes breaking news items and in-depth analysis pieces, all intended to keep visitors on current events. This makes Tech Times an excellent resource for any tech enthusiast.
2. The Next Web
Website: https://thenextweb.com
The Next Web is an excellent choice for people wishing to remain up to speed on the newest global technology. The site covers all, from new product releases to the latest news in the startup industry. There is also a significant emphasis on digital marketing, with pieces discussing the most recent trends and tactics.
The multinational focus of The Next Web distinguishes it from other tech blogs. The site contains content from a diverse spectrum of authors, each bringing their distinct points of view to the table. This gives readers a well-rounded picture of the technology world and helps them grasp the current developments in a global context.
3. Absolute Geeks
Website: https://www.absolutegeeks.com/
Absolute Geeks is a wonderful option if you're searching for a tech blog that covers a wide range of topics. The website includes everything from recent gadget launches to additional advice for making the most of your equipment. There's also a significant community component, with forums where people may talk about everything tech.
Absolute Geeks' emphasis on user-generated material distinguishes it from the competition. Apart from journalistic material, the site includes user reviews, ratings, and a forum where users may debate technology. This gives readers a more comprehensive perspective of the technological environment and allows them to make more informed purchase decisions.
4. ReadWrite
Website: https://readwrite.com/
ReadWrite is establishing the next generation of tech media firms intending to provide helpful content in a way that prioritizes reader productivity above page views and time on site. ReadWrite combines professional groups dedicated to topics of interest, such as connected vehicles, smart homes, AR/VR, finance, and APIs, by using this innovative and efficient content.
5. Frederictech
Website: http://www.frederictech.com/
Frederictech is an excellent choice for people looking to stay current with European technology. The blog is primarily aimed at Lebanese youth but is gaining worldwide traction. Frederic Eid writes about everything from startups & gadgets to digital culture well beyond.
In addition to its great journalistic material, Frederictech offers a variety of other resources that are useful to tech experts. However, the site mainly provides essential updates on telecommunications and consumer technologies.
6. Appsquadz
Website: https://appsquadz.ae/
Appsquadz is a website worth visiting to learn about the newest mobile applications and games. Everything from new app releases to tips & ideas for getting the most out of your unique applications is covered on the blog. There's also a significant emphasis on app development, with articles covering the entire process from start to end.
Furthermore, this site focuses on technology and helps those who live in the UAE or want to visit Dubai. It also offers some exciting stuff about travel, cuisine, and leisure.
7. TECH PLUGGED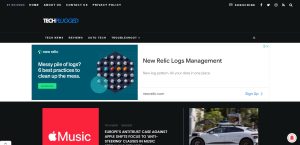 Website: https://techplugged.com/
The world of technology is constantly growing, and keeping up with the newest news and advances may be difficult. So they began examining the latest products and features by establishing a young and motivated team of IT professionals. It was an opportunity to do what we enjoyed while also adding an unbiased voice to the world of technology.
They were able to cover everything from upcoming smartphone debuts and social media to e-commerce trends and new online platforms since they never sought profits and focused on our passion for all things digital. TECHPLUGGED accomplished everything by believing in the potential of technology to alter the world and understanding that connecting with people worldwide is what truly counts.
8. The Verge
Website: https://www.theverge.com/
This blog is about technology and how it affects emotions. On this website, the video and podcasts provide the audience everything from breaking news to critiques to award-winning articles and investigations.
The original editorial insight was that as mobile technology spawned a generation of digital consumers, technology shifted from the cultural periphery to the absolute centre. They live in a brilliant screen world that has brought about media, transportation, and research breakthroughs. As a result, the future is approaching quicker than ever before.
9. Fossbytes
Website: https://fossbytes.com/
Fossbytes is one of India's fastest-growing tech media firms. Fossbytes has quickly established itself as a top source of technology news and online lessons. As its readership grows, Fossbytes aspires to deliver in-depth reporting and revolutionize digital media via ongoing innovation.
They provide current analysis and in-person experience based on their professional publications. The editorial reflects new technological trends from the internet to desktops, startups to large corporations, security, open-source, and other topics. The long-term objective is to make technology accessible to everybody.
10. GigaOM
Website: https://gigaom.com/
Through hands-on, practitioner-driven analysis and research that bridges the gap between strategy and execution, the GigaOM leadership is dedicated to assisting IT and business executives in making educated decisions about enterprise technology.
So those are some of the top tech blogs to follow in 2023 if you live in the UAE. Whichever blog you follow, you'll receive your fill of the newest tech news and insight. So go ahead and check out these blogs right now!