Google for Small Business is a comprehensive suite of tools and resources designed to help small businesses establish a strong online presence and reach their target audience effectively. With Google's vast array of products and services, small business owners can utilize the power of the internet to grow their brand, attract customers, and drive sales. Let's take a closer look at some of the key offerings within Google for Small Businesses and Get started today with our step-by-step guide to get your business online.
How to get your Business Online with Google?
Now bring an impression on Google by creating a distinctive Business Profile at no cost and convert potential customers who discover you through Google Search and Maps into loyal patrons. Customize your profile effortlessly by adding captivating photos, enticing offers, engaging posts, and much more.
To bring your business online, here we provide you with an essential step to do with Google.
Step 1: Get a Web address for your Business profile with Google Domain:
Enhance your online presence and establish a strong brand identity with a web address for your Business Profile through Google Domains. With Google Domains, you can acquire a professional and personalized domain name that perfectly aligns with your business. To get a web address for your Business Profile using Google Domains, follow these steps
Visit the Google Domains website (google) and sign in with your Google account.
Use the search bar on the Google Domains homepage to check the availability of your desired domain name. Enter the name you want to use for your Business Profile's web address and click the search icon.
Google Domains will display the search results, indicating whether the domain name is available or not. If your domain name is available, then you can proceed with it. If it's not available, consider trying different variations or extensions.
Once you find an available domain name that suits your business, click on it to add it to your cart.
Review your cart and ensure that the selected domain name is correct. You can also choose the domain registration period (usually in yearly increments).
Fill in the required information for the registration, including your contact details, billing information, and any additional services you may want to add (such as privacy protection).
Step 2: Get your Business email address
To obtain a professional business email address with Google Workspace, follow these steps:
Sign up for Google Workspace: Visit the Google Workspace website (formerly known as G Suite) and choose the plan that suits your business needs. There are different pricing tiers available, each offering various features and storage options.
Provide domain information: During the sign-up process, you will be prompted to enter your existing domain or purchase a new one through Google Domains. If you already have a domain, you'll need to verify ownership by adding a verification record to your domain settings.
Set up your email address: Once your domain ownership is verified, you can create your professional email address. You can choose to create email addresses for different roles or employees within your organization, such as info@yourdomain.com or john@yourdomain.com. 
Step 3. Build a Professional business website with Google
Build a professional website for your business effortlessly using the easy website builder provided by Google Workspace. With Google Workspace, you have access to intuitive tools and templates that enable you to create a stunning and functional website, even if you have little to no web design experience.
Creating a website for your business using Google Workspace involves a series of steps. Here's a detailed guide to help you get started:
Choose a website builder: Google Workspace offers various website builders, including Google Sites, Google Domains, and Google My Business. Depending on your specific needs, select the platform that best suits your business requirements.
Sign up for Google Workspace: If you haven't already, sign up for a Google Workspace account. This will provide you with access to the tools and services necessary to create your website.
Plan your website: Before diving into building your website, it's essential to plan its structure, content, and design. Determine the pages you need (e.g., Home, About Us, Services, Contact), define your target audience, and gather the necessary content (text, images, videos) to populate your website.
Choose a domain name: If you haven't registered a domain name yet, you can do so through Google Domains. Select a domain name that reflects your business or brand, ensuring it's memorable, easy to spell, and aligns with your business identity.
Set up Google Sites: If you opt to use Google Sites as your website builder, access it from your Google Workspace account. Choose a template that suits your business or start from scratch with a blank template. Customize the site by framing the layout, colors, and fonts to match your branding.
Build your website: Start building your website by adding pages, sections, and content. Use the drag-and-drop interface to arrange elements and components as desired. Insert text, images, videos, and other media to make your website visually appealing and informative.
Step 4. Show your Business Profile on Google
Claim your online presence on Google with a complimentary Business Profile that allows you to curate essential information like operating hours, contact details, and more. By claiming your free Business Profile, your business or services can be prominently featured on Google Search and Maps, making it easier for local customers to find you.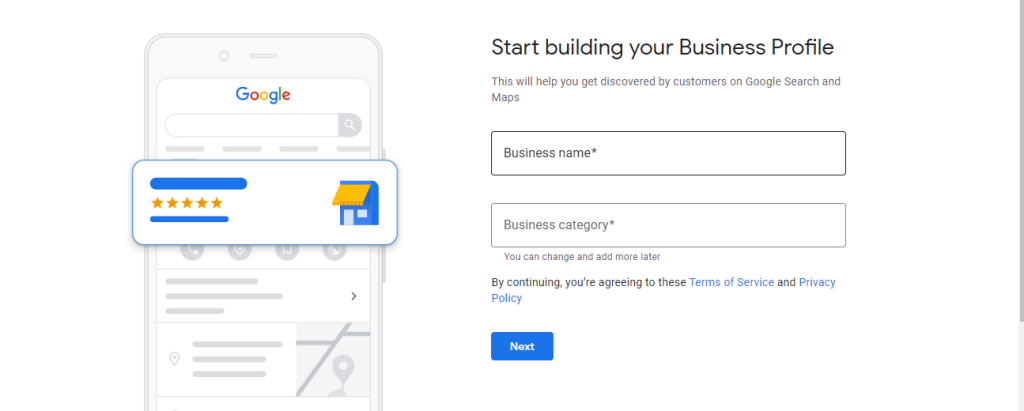 By actively managing and responding to reviews, you can build trust, attract new customers, and retain existing ones.
Final Words:
Google for Small Business offers a comprehensive suite of tools and resources that empower small businesses to establish a strong online presence and connect with their target audience effectively. From creating a professional online profile with Google My Business to reaching potential customers through targeted advertising with Google Ads, Google's offerings provide the necessary tools for small businesses to thrive in the digital world.